Do Not Remove! This activates page animations.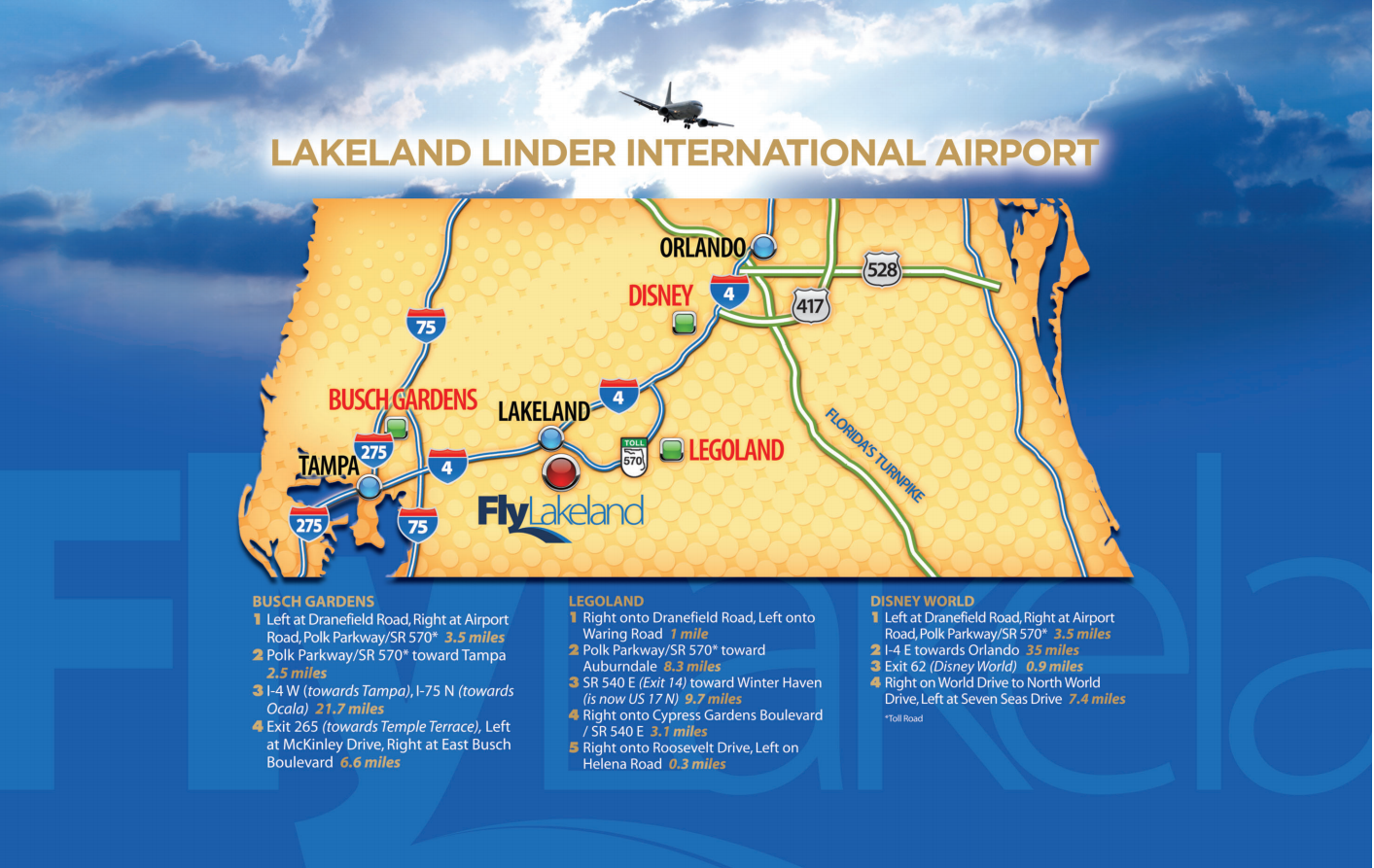 Lakeland Linder International Airport is located in central Florida along the I-4 corridor between two major Interstates, I-75 and I-95, with convenient access via the Polk Parkway. This centrally located region is the crossroads of the largest tourism hub in the US. In addition to the world famous attractions just a short drive away in Orlando, Lakeland and Polk County offer some amazing attractions as well. For additional information about LAKELAND and POLK COUNTY ATTRACTIONS please vist: https://visitcentralflorida.org/, below is just a sample of what you will find:
AEROSPACE DISCOVERY at the FLORIDA AIR MUSEUM is Florida's "Official Aviation Museum and Education Center". Located on the SUN 'n FUN Expo Campus within walking distance of RV Camping, the Museum features a dynamic display of the best examples aviation has to offer including one-of-a-kind designs, classics, ultra-lights, antiques and war-birds. The Museum is a tribute to the history and joy of flight highlighting pioneers such as Howard Hughes and early air racers and includes an Aviation Research Library, Florida Aerospace Timeline and Innovations in Propulsion Exhibit. The Discovery Zone is a hands-on exhibit where even the smallest pilots can manipulate objects to develop a better understanding of how air and spacecraft fly.
LEGOLAND, Florida's newest theme park opened just 20 miles from LAL in October, 2011. The attraction is dedicated to families with children ages 2 – 12, offering a unique mix of more than 50 rides, shows and attractions, including LEGO® models and other interactive elements for the whole family to enjoy. The 150-acre park is comprised of ten different " Lands" including fun Town, Miniland USA, Castle Hill, Land of Adventure, LEGO® City, XTreme, Imagination Zone, Pirates Cove, LEGO® Club House and DULPO®Village. Activities abound, where kids can get their own LEGOLAND driver's license, put out a "blaze" at Fun Town fire Academy, tame a LEGO®-themed dragon coaster or enjoy a pirate live-action, water-stunt show along the shore of Lake Elise adjacent to beautiful botanical gardens. LEGOLAND Florida recently open a Water Park which features a wave pool, Build-A Raft lazy river, tube slides, body slides and interactive water-pay structure – DULPO® Safari. LEGO®
The STREAMSONG RESORT, a 16,000 acre, five star, golf resort opened in 2013 in southwest Polk County. Superb amenities include two top flight golf courses, hunting, horseback riding, hiking, birding, canoeing, fishing, and more. Awarded the 2015 Top 10 Best Top-Notch Warm Weather Golf Courses – Streamsong Resort #1 - by USA Today, the Resort continues to garner accolades as one of the top 100 golf courses in the U.S.
Legendary Architect, FRANK LLOYD WRIGHT came to Lakeland in 1938 to create a "great educational temple" in Florida. He designed 18 structures for Florida Southern College to resemble buildings rising "out of the ground …and into the sun." Twelve structures were built in Lakeland which visitors can admire on a guided tour or free walking tour.
BOK TOWER GARDENS has offered some of Florida's most remarkable experiences to more than 23 million visitors since 1929. Through its historic landscape gardens, unique Singing Tower carillon, magnificent 1930s Mediterranean-style mansion, and 3-acres of nature inspired play Children's Garden, the Gardens offer unparalleled opportunities for artistic, cultural, personal and spiritual enrichment.
SAFARI WILDERNESS is not a zoo! Embark on a wildlife safari by open-air vehicle or camelback to experience magnificent herds of African and Asian animals on 260-acres of Florida wilderness in Lakeland. There are no lines at this attraction, small group tours only. Reservations are required.
The LAKESIDE VILLAGE COMPLEX, located just 2 miles from the Airport, is a destination in itself and boosts superior Shopping, a Marriot Courtyard Hotel, Residence Inn by Marriot, Hampton Inn and Suites, over 15 restaurants and eateries and a Cinema theatre complex.